We invite you to join our team and be a part of something that exceeds the sum of its parts. At JRMA, your experience, enthusiasm and voice will resonate in an environment of genuine collaboration and contribution.
We are open to new ways of doing things. We take pride in a job well done, recognizing that each one of us has room to grow and that there is no limit to learning. Our JRMA University provides a forum for sharing experience and knowledge with others in the firm. Our senior staff offers a mentoring environment in which employees can expand their career opportunities through professional betterment. Whether you are just starting your career journey or seek further growth, JRMA offers the benefits of working with dedicated people who are pleased to share their experience and skill set.
The culture at JRMA is based on a balance of lifestyle and the workplace. From flexible schedules to in-office events and potluck meals, we recognize that the workplace is an integral part of one's life. JRMA also provides an opportunity for staff to participate in the community in meaningful ways, such as working directly with people in need of nutrition through Second Harvest and the Orange County Food Bank.
We invite you to be a part of the future. Many of JRMA's projects present the opportunity to explore new technologies for the communication of our designs and engineering. Our staff employs 3D digital modeling and is currently exploring applications for AR-VR as well as monitoring new developments with AI.
There are no boundaries or limitations to what we can do or who we can be. Come Join the JRMA Team!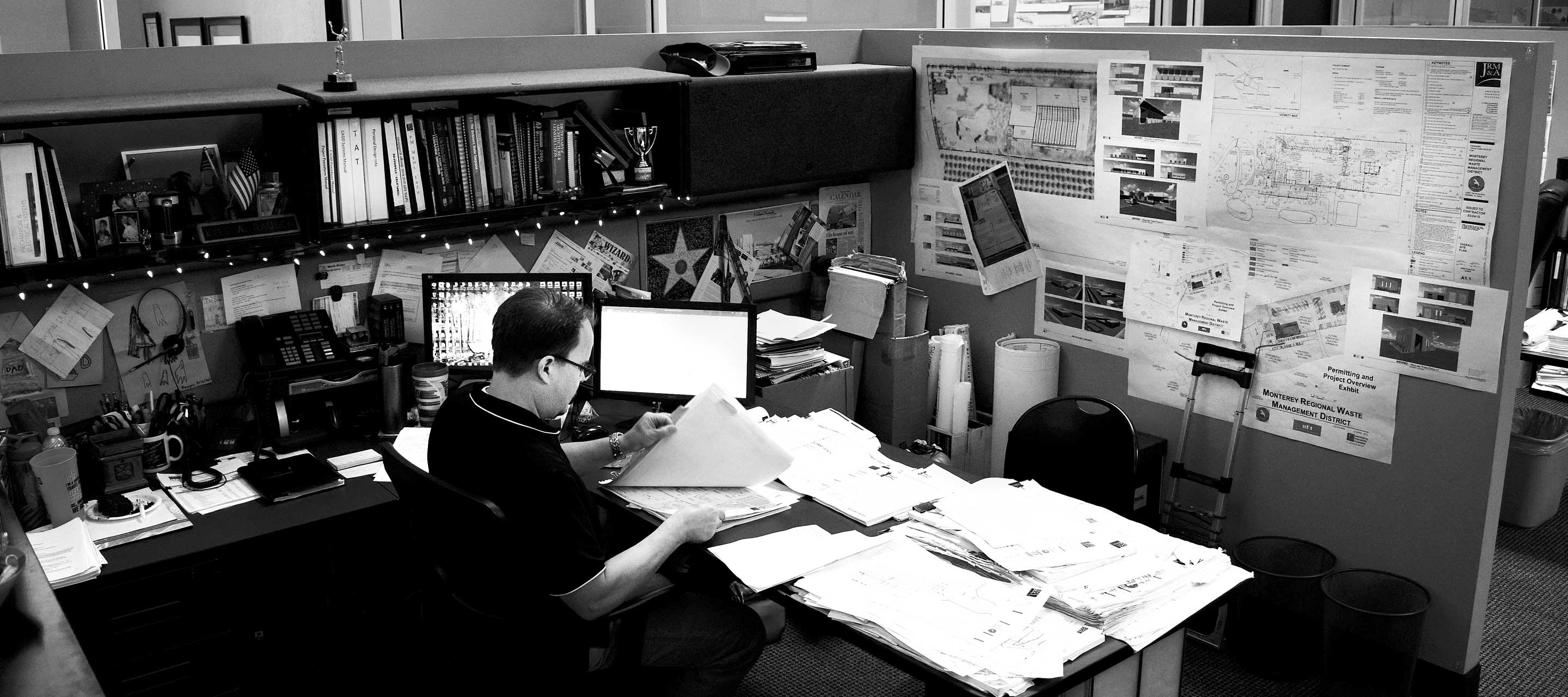 Firm Background:
Founded in 1982, J.R. Miller & Associates (JRMA) has successfully provided design and engineering services for solid waste and recycling facility owners, public entities, and design/build construction contractors with a focus on functionality, efficiency, and life-cycle cost reduction. Today, our firm has over 60 employees with offices in Brea, CA, Portland, OR, Houston, TX, San Carlos, CA, and Lexington, KY. We have played a key role in designing over 100 solid waste facilities which includes many award-winning transfer stations throughout the western United States as well as facilities for material recovery, organics processing (e.g., anaerobic digestion (AD) facilities and composting facilities), household hazardous waste, gatehouse and scale complexes, self-haul and recycling drop-off centers, vehicle maintenance and corporate yard operations, administrative offices and employee centers.

Job Summary
The Senior Project Manager | Business Development will have a dual role of senior management of solid waste, recycling and organics processing projects and active participation in solid waste business development efforts. Project management activities will be coordinated with the Pacific Northwest Regional Manager whereas business development efforts will be performed in partnership with our Principal / Solid Waste. Candidate must demonstrate leadership experience in taking a project from planning, through design, construction, and operations. The position will be based out of our downtown Portland office and support projects and business development activities in the Pacific Northwest and Northern California. Basing the position in Washington state may also be an option.

Summary of Key Responsibilities
Project Management Responsibilities:
Will establish and maintain budgets, and schedules, and lead JRMA efforts to deliver projects to client and contract expectations. Has primary responsibility for client contact and authority to direct, control, and monitor all project activities, including project closeout and client debrief. Requires strong ability to multi-task and prioritize.
Coordinate the work of professional staff and subconsultants throughout project assignments; perform engineering functions; completing project tasks; coordinate with clients in the execution of work; and participate in reviews with various governing agencies for code compliance.
Effectively manage multi-discipline project teams and work closely with discipline leads.
Business Development Responsibilities:
Represent JRMA in a professional manner to clients, colleagues, peers and the public.
Support focused business development activities related to transfer stations, material recovery facilities, and organic waste processing facilities in the Pacific Northwest and Northern California, including projects that include facility master planning and feasibility studies. This would include development and maintenance of strong and productive client relationships, project-specific positioning activities, proposal preparation, and industry or academic presentations consistent with JRMA business development processes.
Work closely with JRMA's Principal / Solid Waste and Leadership Team to continually improve JRMA's value proposition and develop and execute strategies to increase business opportunities in existing and potential markets where JRMA's strengths and skills are marketable. The goal is to establish and maintain a brand awareness locally and regionally, then nationally and internationally for the JRMA core markets.
Qualifications
Architectural degree from an accredited university or equivalent demonstrated proficiency or bachelor's degree in an engineering discipline, preferably structural, civil or environmental engineering
Minimum of 10 years of experience, including 5 years in the solid waste management industry
Professional Engineer (PE) license or Licensed Architect
At least 5 years of experience planning, coordinating, and administering solid waste projects through all phases of development. Ability to manage multiple project teams.
Experience in client management, and in positioning for add-on work with existing clients and/or development of new client relationships.
Experience leading the design of transfer stations, material recovery facilities, and/or organics processing facilities is highly desirable.
Communication and Collaboration Commitment to:
Work in a collaborative, team-oriented culture
Develop and promote the firm's vision, mission, and core values in collaboration with other senior leaders.
Establish productive working relationships, and deal effectively and cooperatively with clients, team members, consultants, and government agencies.
Direct overall verbal and graphic communication of complex project concepts to clients, public agencies, and project team members, and be primary point of contact for all client issues.
Keep Pacific Northwest Regional Manager current on the status of projects.
Keep Principal / Solid Waste apprised of key business development activities.
Position Location: Downtown Portland
Reports To: Pacific Northwest Regional Manager and Principal / Solid Waste
Hiring contact: Kevin McCarthy, kevinm@jrma.com, 650-248-7440
Please email cover letter and resume to Kevin McCarthy
APPLY NOW
No jobs found.
If you do not see a job opening, feel free to reach out to us anyways! We're always on the lookout for great talent! Email us at careers@jrma.com
We use cookies to provide you with a better website experience. Click here to review our privacy policy and find out how to manage cookies.